Registration: MABEC registration page (linked below) will ask for this data.
Name: Physical / Mailing address: City, State, Zip;

Electronic communications: e-mail address; Telephones: Work/Home; Mobile;

Work related: Sector: forestry, energy/building/heat, Other;

Job title; Business/Agency Name; Description of your work activity;

Please register me for EUROBIOFOR 2019. I understand and accept the invitation proposal, Terms & Conditions. My full payment is being submitted for processing through the Mid-Atlantic Biothermal Energy Council on-line process.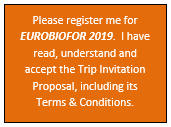 Click this link to access MABEC registration page
------>
Activities overview –

See main page of EBF19 website at http://www.resourceprofessionalsgroup.com/ebf19.html
Where, W
hen and WSED
–
Wels, Upper Austria and Nϋrnberg Germany
EBF19 Event Hotel – Group Meetings and Lodging at the Hotel Alexandra / Bayrischer Hof. https://www.facebook.com/pg/HotelAlexandraundHotelBayrischerHof/about/
First EBF19 event is at 4PM Sunday Feb. 24.
We recommend arriving Saturday Feb 23 to allow for time change reaction.
EBF19 activities also include:
World Sustainable Energy Conference with European Pellet Conference – EBF 19 group members are pre-registered for WSD. Sign-in is Tuesday morning at
Stadthalle Wels

EXPOENERGY trade show co-located with WSED, See https://expoenergy.eu/ne13/?pn=3

Organizers, leaders and co-sponsors –
Resource Professionals Group LLC (RPG) is a consulting firm in forestry and energy applications. RPG led a similar trip in 2008, but is not a travel agency.

Jonathan Kays at University of Maryland Extension and Dan Richter at Duke's Nicholas School of the Environment were part of 2008 trip sponsored by RPG and Penn State's Forestry Extension program. It will be great to have them along in 2019, and we appreciate their joining the sponsorship team.

Chris Gaul is a mechanical engineer with experience as a facility energy manager with a campus-wide biomass fired heating plant. Other association co-sponsors Biomass Thermal Energy Council, Mid-Atlantic Biothermal Energy Council and Vermont's Biomass Energy Resource Center. We are grateful for guidance and awareness-building help they have provided.

We sincerely appreciate extra consideration and help we received from the Upper Austria Energy Agency and other Austrian people and organizations named throughout this Proposal.
Lodging accommodations – Hotel Alexandra & Bayrischer Hof
A block of rooms is reserved for EBF19 at this comfortable, well situated hotel. The hotel-quoted room rates are based on room type and number of beds. For room type options, click here: #roomtype.

You may take any room as a single, but your cost will be lower if you choose double occupancy. Breakfast is included in your room rate as part of the EBF19 program.

What is included –
Ground transportation for group activities in Wels and Nϋrnberg
bus for group to EBF19 facility site visits,
rail transportation, Wels to Nϋrnberg, Germany

Biothermal and CHP facility and forestry site visits, meetings Images below from 2008 trip
with Austrian cooperating partners including introduction meeting with and/or presentations by Austrians Kasimir Nemestothy (Agricultural Chamber, formerly Austrian Energy Agency); Christoph Pfemeter (Austrian Biomass Association); Siegfried Aigner (Aigner Engineering); Dr. Roswitha Krautgartner (US Embassy, Foreign Agriculture Service).
Food as listed below for EBF-19 and WSED events.
Reception fare - first Sunday during orientation - welcome event at Hotel Alexandra with available Austrian cooperating partners.
Buffet dinner first Monday evening with Keynote speaker (Dr. Christian Rakos., Propellets.at).
Lunches and Dinners - (Tuesday – Thursday as described in WSED program for various events.) You choose agenda items as you sign in on Tuesday.
Reception fare - Friday evening with available Austrian cooperating partners.
Dinner second Monday evening with available German host cooperating partners.


Participation in WSED events and access to B2B days of ENERGYEXPO trade show.


Group review and evaluation activities and Recording-review meeting to finalize and outline group findings and recommendations.
Documentary record of the group's activities and findings electronically provided to each registrant .
Leadership from co-sponsors and lead team


Critical Dates – Registration Deadlines

Registration open now
EBF19 group room hold for reservations through January 20, 2019

Regular registration ends midnight Sunday January 20, 2019
Full payment must be received by midnight Sunday January 20, 2019
Late registration period with payment made in full by Sunday Feb.3, 2019

Registration Cost –
Austria Revisited discount – for the friends who traveled with us in June, 2008 $2475.
Regular registration through January 20, 2019 $2975.
Late registration after January 20, 2019 $3475.

What's not included?
Airfare and other travel to or returning from the event, insurance for travel or trip protection, medical or med-evacuation, baggage loss/damage, items of personal interest unrelated to the purposes of the event. See EXCLUSIONS section of EBF19 Terms and Conditions page.

Other information –
Language –
All advance-scheduled presenters for EBF19 are fluent in English. WSED events are presented in or with translation into English. The hotel staff generally is multi-lingual, including English.

Laundry – aside from commercial services, Wels has one laundromat which is located close to the hotel.

Medical facilities – Wels is home to a 1,227 bed facility known as the Wels-Grieskirchen Medical Center.

Money and Banking –
Credit cards are generally accepted in larger shops, airlines and railroad ticketing agencies and café cars, and hotels. Some, like Hotel Alexandra, accept Visa and Mastercard, but not AMEX. Many smaller stores, restaurants and taxi cabs are cash-only businesses. ATMs are readily accessible.

Phone and internet – Service is available and of high quality. HOWEVER, some American phones do not include European "signal bands," so it is essential to confirm that your plan and equipment will be compatible.

Member:
American Society of Heating, Refrigerating and Air-Conditioning Engineers (ASHRAE)
Association of Energy Engineers (AEE)
American Society of Agricultural and Biological Engineers (ASABE)